Flashback Friday!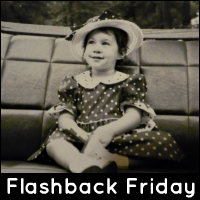 Link up an old picture and/or an old post! No rules, other than that. Have fun!! :)
Today I'm posting pics of some of the pets I've had in the past.
My first dog, Fluffy. (That is me and my brother Harry sitting on my grandma's lap.)
I had this giant brown rat as a teenager named Willy.
A dog I had when I was 10 and 11 who got ran over by a car... I was so heartbroken when that happened!
Same dog as above... His name was Sombrito.
Kirby, Missy, and Jake. My mom kept Missy and Kirby when I moved out, and I gave Jake to a friend of mine.
Another pic of Jake, renamed Hobbes by his new owner. He grew up to be a handsome black lab!
This is Missy and Kirby today.
Missy with my cat, Emma...
Grace, a kitten I rescued but didn't end up keeping, and Shady, my other cat (Emma's sister). Unfortunately, I don't have any better pictures of my cats. :(
Thumper, one of my bunnies.
Sammy and Charlie, my other 2 bunnies. My mother forced me to re-home my cats and bunnies, and although I was angry and heartbroken at the time, I realize it was best because I was miserable every day due to allergies to them.
Some ducklings we rescued and kept for a few weeks before finding a suitable home on a farm for them.
One of my Ball Pythons, I can't tell if it's Sandy or Taylor... Both of them died of unknown causes after I had them a year. :(
Three rats I had named Cookie, Cinnamon, and Banana Cream Pudding Pie!
A Rose Hair Tarantula I inherited from a friend of mine... He was afraid to pick her up and take her out so I offered to take her! She had a beautiful, shiny pink back.
A Dobie I found as a stray... I could not keep him but my friend adopted him and still has him. I still see him occasionally. He was close to starving when I found him but he's quite chubby now!
From right to left... Theodore, my male chinchilla who died a few years back. :( Priscilla, his mate, who I still have. And Twiggy, their baby, who we gave away to a good home.
Priscilla and Theodore's second litter, a pair of twins we called Angel and Kumquat. Angel died, after a long vet trip where they could not figure out what was wrong with him/her (not sure). Poor thing was only 6 months old. :( Kumquat was given to a friend.
Kaylee with our beautiful White Shepherd, Zeph... We found him a few years back and had him for a year. He was an amazing dog, I always thought he was part wolf. He did not deserve to die the way he did but try as we might we could never contain him and he ran away and got hit by a car. :( This dog actually chewed/dug his way out of a locked house, out of a fenced in yard, and off the strongest metal chain that the pet store sells!! I guess he was just not meant to be kept locked up...