Kaylee and Her Doggie Siblings :)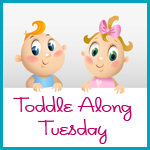 When I was pregnant with Kaylee, Molly knew. She became very protective of me and took to licking my belly all the time. Weird but kind of sweet, hahah.
When Kaylee was born, Molly seemed to know she was the baby that had been in my belly. She somehow knew Kaylee was my pup. She was protective of her, yet respectful to me because her instincts told her I wouldn't want anyone near my pup. Whenever we put Kaylee down to sleep in bed or in her bassinet, Molly would lay nearby and guard her. I had been afraid about jealousy during my pregnancy, since Molly was my baby and the center of my attention for years, but obviously I needn't have worried! (Below Kaylee is breastfeeding and I am completely topless so I had to cut a bit of the pic off lol.)
As Kaylee grew, she became interested in petting (aka torturing) Molly. Molly would give her warning growls, as a mother dog might do a pup, but would not "discipline" her as a mother dog... I think because she knew I was the mother and it wasn't her place to discipline. So she just put up with the torture as best she could. She did try to hide from Kaylee sometimes when it got to be too much, but remained very protective of her. And of course, was still very interested in licking her, actually more so since she started teething and drooling. Apparently, baby drool is very yummy to dogs LOL.
Then we got a puppy! (What were we thinking? I have no idea. It's not like we didn't have enough to do already!!) Anyway, Kaylee was at the peak of her "torture dogs" stage. So Aries grew up being petted, poked, smacked, etc. I'd say poor Aries, but he honestly likes it. He likes any form of attention and he's a tough dog, very muscular and his head is like a brick lol. Nothing can really hurt him.
So now we are a big, happy family! Molly puts up with Kaylee and Aries, and loves them in spite of them constantly annoying her. Kaylee and Aries play fetch, doctor, and cowboys together, and sometimes just rough house. All 3 of them snuggle on the couch together, and it's so cute that I've pretty much given up on the no dogs on the couch rule.
Life with kids and pets in the house can sure be challenging. Sometimes I think I am crazy for having 2 dogs, a toddler (is 3 years old still a toddler?) and another baby on the way. It is seriously a lot of work, and it's only going to get harder when the new baby comes!! But at the same time, it's worth it for all the cute moments. I really can't imagine life without our dogs. Growing up with pets has given Kaylee a love of animals and a respect for life in general. I wouldn't trade that for anything. :)
(PS Yes we also have a chinchilla and a hamster, but I've come to realize they are just too small to interact safely with Kaylee at this age.)