Fill In The Blank Friday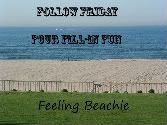 1. When I was little I was called
Cami and Cam... and I still am lol
.
2.
Just plain chocolate
is my favorite candy.
3. If I could have one magical power it would be
to fly
!
4. If I could go back to school it would be to become an
author
.
1. My first memory is
I think my first birthday... I just remember that I felt sick, and the bows kept falling off my party dress so my mom kept catching me to put them back on
.
2. My first love was
... I really think my first real love was my husband. My first crush was this boy named David in preschool though, hahah
!
3. My very first favorite color was
I forget, blue I think, and it still is
.
4.The first time I really felt like a "grown-up" was when
hmmm, that hasn't happened yet... LOL no um, probably when I started babysitting when I was 13. Though more so when I got pregnant with Kaylee when I was 20
.
5. The first thing I do when I wake up in the morning is
put on my glasses
.
6. The first CD (cassette tape, record, etc...) I ever bought was
Blue by Leann Rimes?
7. My first car was
...none yet. :(