Flashback Friday & Life Update :)
I've been trying to catch up on blog stuff, but that darn carpal tunnel makes my arms start hurting after about 5 or 10 minutes on the computer. :( Actually, the left one goes numb and the right one hurts, it's weird. I am really hoping that it's just pregnancy related and that it doesn't persist after the baby comes.
In other news, I've been having LOTS of Braxton-Hicks the past few days. I'll have to see at my birth center appointment next week, but I think the baby has dropped. I feel a lot of low pressure, like in/on my cervix I think. I keep getting cramps in my back and lower belly. I really can barely walk at this point, I have to awkwardly waddle! I'm sure it looks pretty funny. So yeah, my body is definitely starting to get ready for labor! It's really uncomfortable but at the same time super exciting. :) Only 1 more month to go, if that!!
Anyway, here is the Flashback Friday linky. I hope everyone has a great weekend! :)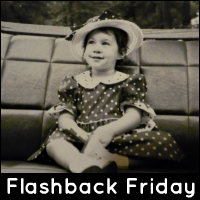 Link up an old picture and/or an old post! No rules, other than that. Have fun!! :)