Kaylee's Top 10 Fave Toys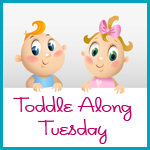 These are in no particular order. :)
1. A giant cardboard box. I kid you not, this is one of her favorite things. She calls it her clubhouse.
2. Books. She loves being read to and 'reading' them by herself. And she has learned SO MUCH from books. :)
3. Legos. The regular kind and the big kind, I guess they're called Mega Bloks. She likes to play with them by herself but especially with Daddy. Not with me so much... Apparently I'm not as imaginative or fun. -_-
4. Dolls and stuffed animals can entertain her for hours. She names them all and plays pretend with them.
5. Doctor set. This is an old favorite, she's loved it since she got it for her second birthday. She gives the dogs and my belly checkups all the time!
6. Crayons and paints. This keeps her busy for a while pretty much every single day.
7. Just being outside. She finds pine cones, sticks, rocks, and all kinds of treasures. We talk about plants and animals and the different colors we see. The only downside is mosquitoes!
8. The iPod. She needs help with some games but plays a lot of them all by herself at this point. Her favorite app right now is Team Umi Zoomi: Zoom into Numbers.
9. Various other random toys, such as her dollhouse, plastic dinosaurs, matchbox cars, train set, blocks, puzzles, Leapfrog laptop, fridge magnet letters and numbers, her tricycle, balloons, balls, musical instruments, dress up clothes, and play kitchen with pretend food. I find that keeping all the toys in drawers makes them more exciting when we take them out. We try to focus on playing with one thing and put it away when we're done with it. I want her to think that her toys are special, not take them for granted and leave them all over the floor. (Although sometimes that rule gets broken... LOL.)
10. Various things that aren't really toys. Since she gets bored easily and has way too many toys already, I try to keep my eye out for things we can do that doesn't involve spending more money. Whether it's pouring water into different sizes empty bottles, sorting beads into color/size piles, looking through photo albums, making tidying the house into a game/race, or helping me fold towels (she LOVES that, and she's gotten surprisingly good at it). Anything I can do to keep my lil busy bee from getting bored and destroying the house, I'm all for it! :)