40 Week Bumpdate!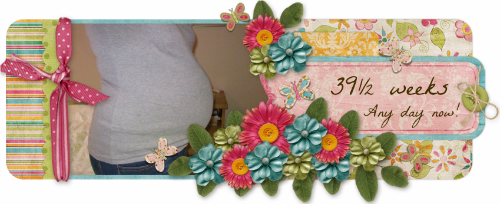 Week: 40 (at midnight).
Due date: November 28.
Symptoms: Lots of Braxton-Hicks! I don't think I've had any *real* contractions yet though. :(
Feeling: Tired, sore, uncomfortable, moody, impatient, excited, READY!
Health: Good. All systems are go for birth center birth. :) If I'm still pregnant at 41 weeks, we start talking induction and/or hospital birth, so I just hope she comes out soon!
Weight gain: 57 pounds. x_x
Movement: Still active, even though she's pretty squished in there at this point. Sometimes I'm like OUCH because I feel like she's just going to bust out through my stomach skin lol.
Gender:
Girl!
Name:
Brynna Rose. :)
BabyCenter
update: It's hard to say for sure how big your baby will be, but the average newborn weighs about 7 1/2 pounds (a small pumpkin) and is about 20 inches long. His skull bones are not yet fused, which allows them to overlap a bit if it's a snug fit through the birth canal during labor. This so-called "molding" is the reason your baby's noggin may look a little conehead-ish after birth. Rest assured — it's normal and temporary.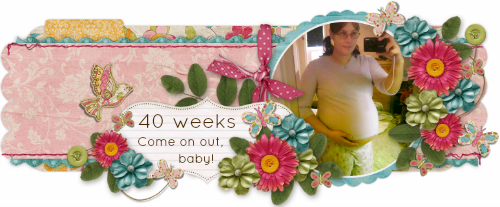 39 Weeks | 41 Weeks