Saturday Top 5 Laughs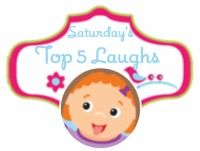 These are some of the things Kaylee has said to crack me up lately...
"Kaylee, it's rest time, come lay down."
"I can't right now, I'm traveling to Africa."
"One more cookie, please. I *deserve* it!"
"Mommy, I want brothers and sisters!" I'm working on it sweetie. xD
"You forgot to put your hip fat away when you pulled up your pants." (She was really trying to be helpful when she told me this.)
Just being silly and playing dress up. She told me she wants to be a doctor, a dancer, and a penguin when she grows up, lol!
More of Kaylee's quotes
HERE
. :)