The Laine Blogger Award
Thank you to
Tabitha
for passing this award onto me! Sorry it took me so long to accept it!!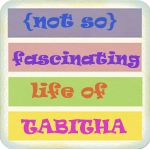 Here's how it works:
Answer 5 questions about yourself (same ones listed here).
Add award logo in your post and thank the person who gave it to you and link back to the person that gave you the award.
Pass it on to 5 other bloggers and notify them on their blog that they won.
Questions and my answers:
What is your current beauty obsession? I don't really have any beauty obsessions...
What is the ONE item you wish you owned? A new camera!
What is your favorite topic to read about? Probably babies and kids.
What inspired you to become a blogger? I wanted to document Kaylee's life.
What nail polish are you wearing now? None.
Blogs I'm passing this award onto: