Brynna's Birth!
Last night at 11pm, I wrote
this post
. I sort of thought I would labor all night and maybe have the baby in the morning or sometime the next day. An hour and a half later, my contractions were 1 and a half minutes apart and 30 seconds long. I was still talking through them, they weren't super painful. I was doubtful that I was really close to actually having the baby, but I figured I would call the midwife and see what he wanted to do. He said to meet at the birth center at 1am. So I woke Steven up and called my mom over to watch Kaylee. Then we headed to the birth center (stopping for an energy drink for him along the way). We got there and I was hoping this was the real thing so I didn't wake everyone up for no reason. David (the midwife) checked me and I was 5cm dilated. Over the next half hour or so, my contractions got more intense. Laura (my doula and also a good family friend) arrived. A nurse gave me an IV, which I really didn't want and ended up taking out a little while later. Yes, even with labor pains, I managed to get upset over a little needle, lol.
My contractions got pretty painful, I'd say they were more painful than when I had Kaylee. Laura calmed me down with encouragement and homeopathics. Steven was silently supportive, rubbing my back and shoulders. I got in the shower at some point for pain relief. I was in birth mode, and my instincts had taken over physically, but I was still thinking clearly in my head. I kept thinking, this hurts really bad, I kind of wish I had an epidural. But I'll never make it to the hospital to get one, and I remembered how much I disliked it with my last birth anyway, so I had to just do this. I knew I could, and I focused on how worth it everything would be when she finally came out and I got to hold her. I also remember thinking how weird I sounded, I kept making grunting noises like I was picking up something really heavy.
Then at approximately 2:30am I started having the urge to push, so they checked me again, and I was 8cm. They told me to try not to push yet, but it was really hard. My body was taking over and pushing 4 times or so with each contractions. Then before I knew it, I felt something change. The pain got a little less bad and lower, and I knew she was in the birth canal. I had ended up in the bathroom, in a squatting/crouching/sitting position, and no one could fit in there with me to catch the baby. So I crawled out, and with a few more contractions, pushed her out on my hands and knees. Someone caught her, I guess it was the midwife. I said, "I need my glasses!" lol. I'm nearly blind without them and I couldn't see her to take her. Steven put them on, and I finally got to hold her!
I laid down on the bed so they could see what was going on with the placenta, and I just stared at her. It was such an amazing moment. I felt like the birth had gone by so fast, and had happened just as it was supposed to. Steven cut the cord. They checked her while I held her. They had to push on my belly and help me deliver the placenta and some clots. After 5 or 10 minutes, I sat up and nursed her for the first time. :) I asked what time she was born and they told me 3:10.
Over the next few hours, they checked me and the baby a few more times. She was nursing really well already. We went over some info, signed some papers, etc. I had to get my blood taken and a Rhogam shot. I was a little whiny about both of those things, lol. They measured Brynna and she was 7 pounds 13 ounces and 20 inches. They also ended up finding something they want me to get checked out asap, a possible spine problem. They said it was probably nothing so I'm trying not to worry about it. We get it checked tomorrow at 10am.
For some reason, Kaylee woke up extremely early, so she and my mom came over. The moment she came in and saw Brynna was the most adorable thing ever. She was just so excited. I felt so happy and complete having both my babies with me. Then my mom rocked Brynna while I got ready to go. Steven packed the car and we drove home at 7:50am. They had told me we'd be going home in 6 to 20 hours and I was really surprised and happy that we got to head home in just 5. (It's only about a 10 minute drive.)
We got home and had a peaceful day of nursing and sleeping. She's peeing well but we're still waiting for her to poop. She's a pretty quiet baby, at least so far. Kaylee absolutely adores her and has been kissing, petting, and reading to her all day. I am sore all over but other than that I am just so happy. I know it's going to be kind of rough for a while and no one will get enough sleep, but I'm so excited to start our lives as a family of 4. :)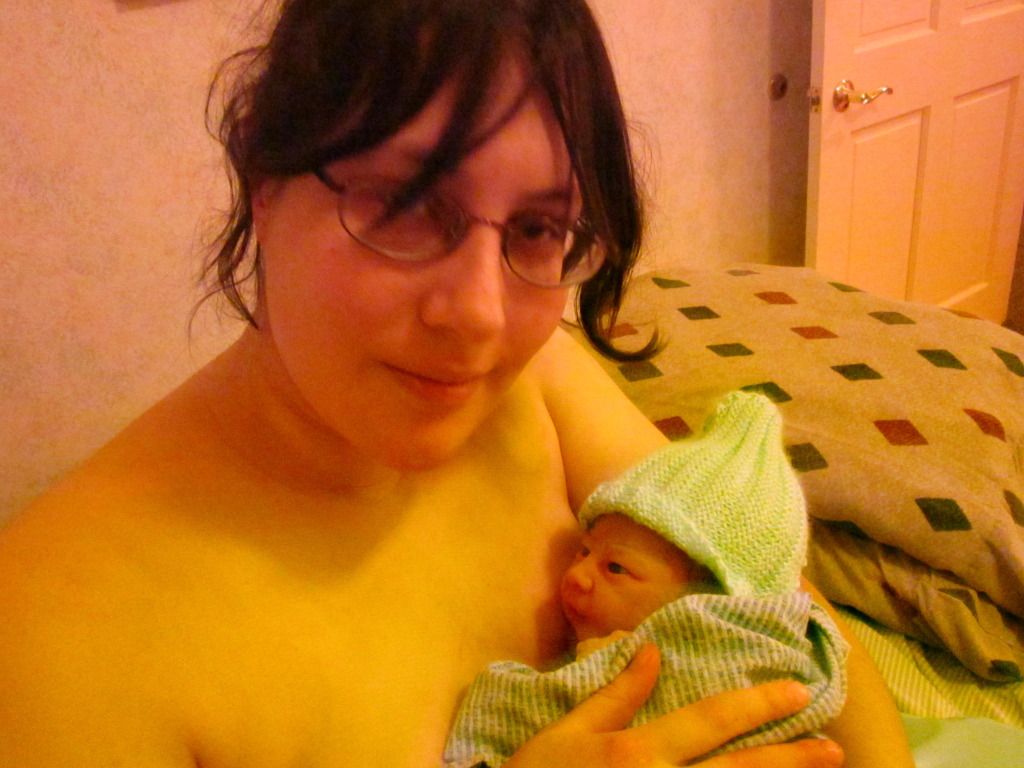 Note: Thank you so much to my midwife, David, and all the nurses at Special Beginnings Birth Center for helping me have the most amazing birth ever!!

41 Week Pregnancy Update | 1 Week Old Update