Weekly Weigh In #2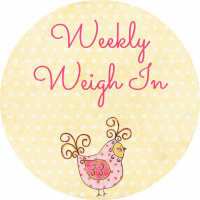 Week:
2.
Weight loss this week:
1 pound.
Total weight loss:
21 pounds.
Current weight:
219 pounds.
Weight goal:
150 pounds.
Eating habits this week:
Good, although I ate a little too many sweets this week. But it's the holiday season so that's to be expected. ;)
Exercise habits this week:
I'm still taking it easy, I figure I will start exercising again at 6 weeks postpartum or so.
Sorry I got this up late again, I will have to put it up Saturday night from now on. Sundays are too busy around here. Anyway, everyone is welcome to link up any health and fitness related posts... A healthy recipe, your weight loss progress, motivational quotes, anything like that! Note: I will put up my Monday No Rules Blog Hop in the morning. :)