Saturday's Top 5 Laughs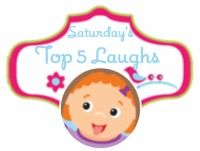 I usually share
Kaylee's quotes
but I figured today I'd share some quotes from my husband. He says the funniest, and sometimes the dumbest, things! (Love you, Steven. :D)
Steven: "Why did you rearrange the fridge?"
Me: "I just threw out everything that was rotten."
"I like my voice when I have a cold. It's very deep and manly." - Steven
*sleep-talking* Steven: "They say they love you."
Me: "Who?"
Steven: "The little knives."
(What the?!)
Steven: "Why is she wearing so many outfits?"
Me: "She's just wearing 1 outfit and a jacket."
Steven: "Well should I take off the jacket?"
Me: "Uh, why would you need to take her jacket off to change her diaper?"
I usually lay out clothes for him to put on Kaylee in the morning because he picks out the weirdest outfits for her (she's not in the mood to pick her outfit or get dressed herself in the morning, not really a morning person). But even though I pick out the clothes, I still have to do a check before they leave for school because half the time he'll put the shirt on backwards or something, lol!