Thankful Thursday
I didn't really feel like writing a thankful post tonight. But then I realized it might be the
most
important to write one when I am feeling the
least
thankful, if that makes sense.
Kaylee is being so challenging lately. She is the most stubborn person I've ever met; she even rivals me. Bedtime is the worst. She sometimes stays up until early morning! Tonight at bedtime, I lost my temper, then she FINALLY laid down. After a little bit, I felt bad, so I went in and hugged her, and she said, "Are you still mad at me?" I told her no, and that I loved her, and she fell straight asleep. Talk about mommy guilt.
I've been sitting here feeling like a terrible mom for a while now, planning on skipping Thankful Thursday. But then I realized, you know what, I AM thankful. Even though parenting is a challenging, insane, emotional roller coaster sometimes... I am so thankful to be a mom. I'm thankful that every day is a new chance for me to improve as a parent and as a person. I'm thankful that I have a patient, supportive husband so I don't have to muddle through this parenting thing alone.
And most of all, I'm extremely thankful that of all the challenges we've had with Kaylee lately, she doesn't ever take out her anger on the baby. She absolutely adores Brynna. The first thing she does in the morning is kiss her, and the same goes for when she gets home from school. Seeing their bond makes everything more than worth it.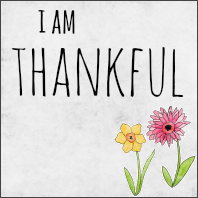 Please link up your thankful posts. For more Thursday link-ups, check out my blog hop library.