Weekly Weigh-in #18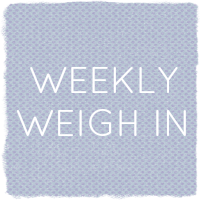 Week:
18.
Weight loss this week:
3 pounds.
Total weight loss:
35.
Current weight:
205.
Weight goal:
160. (Or whenever I feel like I'm at a healthy weight.)
Eating habits this week:
I ate too many sweets again, as usual. Other than that, I did ok.
Exercise habits this week:
I have to admit, I didn't exercise much this week. I don''t know how I've lost weight. o_O
~~~~~~~~~~~~~~~~~~~~~~~~~~~~~~~~~~~~~~~~~~~~~
Please link up any health and fitness related posts... A healthy recipe, your weight loss progress, motivational quotes, anything like that!