Weekly Weigh-in #19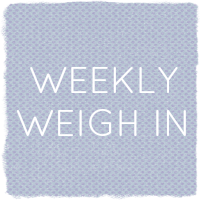 Week:
19.
Weight loss this week:
3 pounds.
Total weight loss:
38.
Current weight:
202.
Weight goal:
160. (Or whenever I feel like I'm at a healthy weight.)
Eating habits this week:
I've been doing a little better but still eating too many sweets. I have no idea how I lost weight, I guess it's the breastfeeding.
Exercise habits this week:
I am ashamed to say I haven't been exercising. I've been so stressed and busy but who knows when that is going to change so even if this week is that way, I am still going to try to exercise. I should be able to fit in 20 minutes somewhere, no matter how crazy life is. I just need to stop making excuses and make this a priority.
~~~~~~~~~~~~~~~~~~~~~~~~~~~~~~~~~~~~~~~~~~~~~
Please link up any health and fitness related posts... A healthy recipe, your weight loss progress, motivational quotes, anything like that!