Saturday's Top 5 Laughs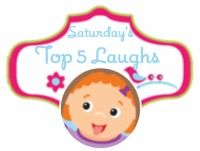 "I have to go home now because Daddy can't take care of Brynna by himself, he needs my help!" -Kaylee
"I do want to play with my toys with you, but you know I can't because Brynna might cry if I leave." -Kaylee
"I have 2 E's in my name, just like Daddy." -Kaylee
Me: "What's the opposite of up?"
Kay: "Down."
Me: "Yeah, you are so smart!"
Kay: "Yeah, I am."
Kay: "When I grow up and my boobies get bigger and bigger, I'll let Brynna nurse me when she's hungry."
Me: "I think by the time you're grown up, Brynna will be grown up too."
Kay: "Then when Brynna is grown up, I'll feed her a chicken nugget."
More of Kaylee's quotes
here
. :)
PS In the next week, I have a school reunion and a dentist appointment, and Kaylee has a dentist appointment and a trip to the school she's going to next year. So it's going to be a pretty busy week, I may miss a few of my posts and fall behind in checking my comments and reading everyone's blogs. Thanks for bearing with me, everyone! <3 One of these days, maybe I'll get the hang of managing all the aspects of my life, lol.