I'm thankful that I had a good day today. I'm thankful that I have a super understanding husband who supports me on the not so good days. And I'm so so thankful that I have these two amazing little girls to motivate me to keep fighting this depression thing with everything I have. ♥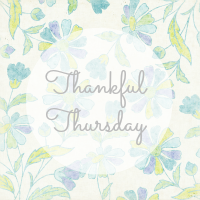 Taking a button is optional. If you do take one, feel free to put your button on my blog; either for your blog, blog hop, shop, or whatever. For more buttons, click here!
Please link up your thankful posts. :) For more Thursday link-ups, check out my blog hop library.