Thankful Thursday
I'm thankful that we have a family friend who was able to fix our fridge today!! His wife was actually my doula for both of my births, and their son is a good friend. So I'm just thankful for their family in general!
I'm thankful that I was able to take my food to my mom's house so it didn't go bad while our fridge wasn't working. She and my stepdad are out of town so I had to rearrange the fridge myself, but I somehow managed to fit everything in. :) I'm really good at organizing things like that, too bad it's not a marketable skill!
I'm thankful that Kaylee is doing GREAT with sleep lately. We have a sleep chart and it's working surprisingly well. She gets a sticker whenever she goes to bed like she's supposed to and sleeps in her bed all night (she's allowed to come in our bed when the sun starts coming up). We get her a small treat when she gets 10 stickers. It's weird because she gets small treats every time we go out anyway, but for some reason this system is extremely motivational for her.
I'm thankful for Steven putting up with me so well for the past week or so. I've been kind of depressed, which makes me tired and grouchy. He let me sleep in like every day this week and helped out around the house as much as he could before going to work.
I'm thankful that I felt much better today than I have in a while, and that I'm starting Yoga soon. Hopefully it will help my Bi-polar symptoms!
I guess I have a lot to be thankful for today. :) I hope you guys do too!!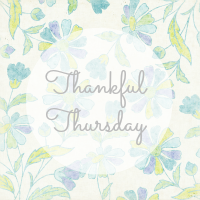 Taking a button is optional. If you do take one, feel free to put your button on my blog; either for your blog, blog hop, shop, or whatever. For more buttons, click here!
Please link up your thankful posts. :) For more Thursday link-ups, check out my blog hop library.