6 Months!!
Wow, I can not believe it's already been half of a year since Brynna was born. It feels like just yesterday I was sitting right where I am now, writing my pregnancy posts. I remember feeling her kick like crazy in my belly, and I remember being SO impatient to meet her. And now she's here!! I'm so grateful for her, every second of every day.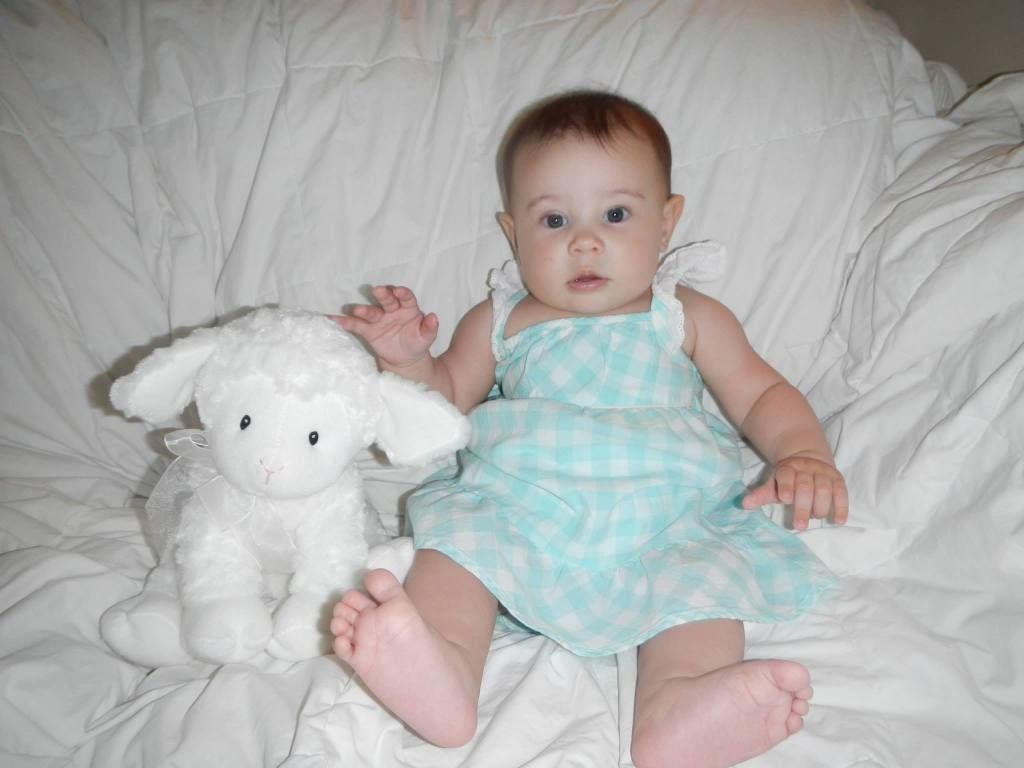 This has been a big month for Brynna. She's doing so many new things and growing up so fast! She is still pretty quiet most of the time, but she has times where she gets very smiley and giggly. I admit I let her stay up a little bit past her bedtime just to see her get overtired and start acting silly. It's the cutest thing ever! I'll put a video of it at the end of the post.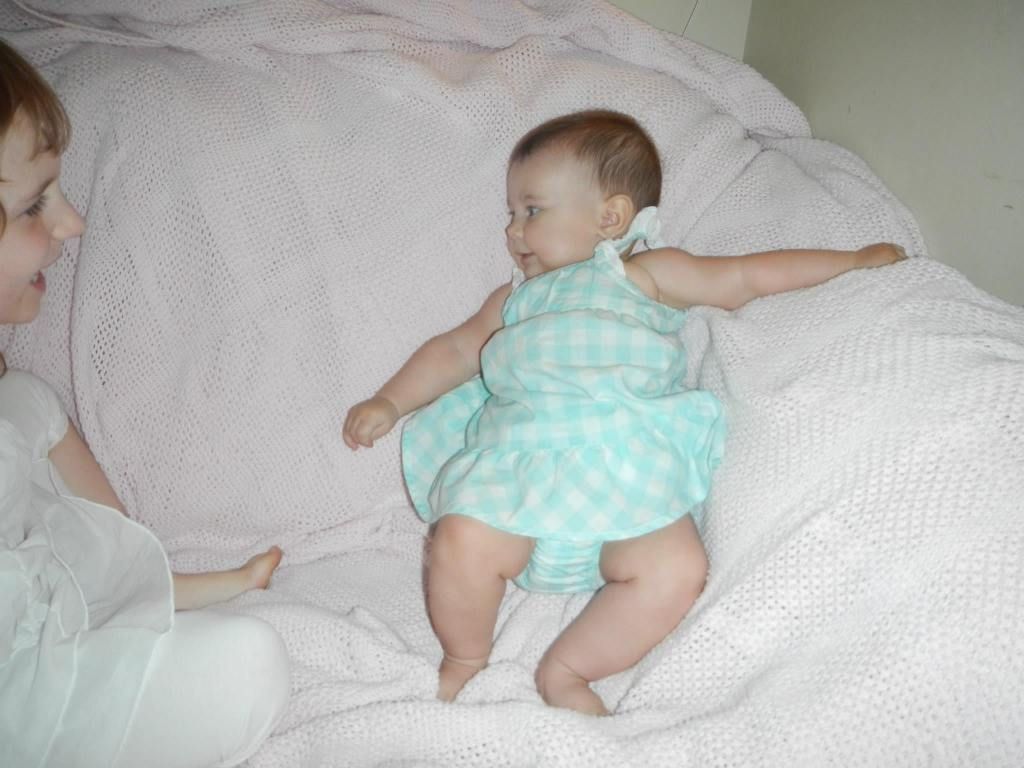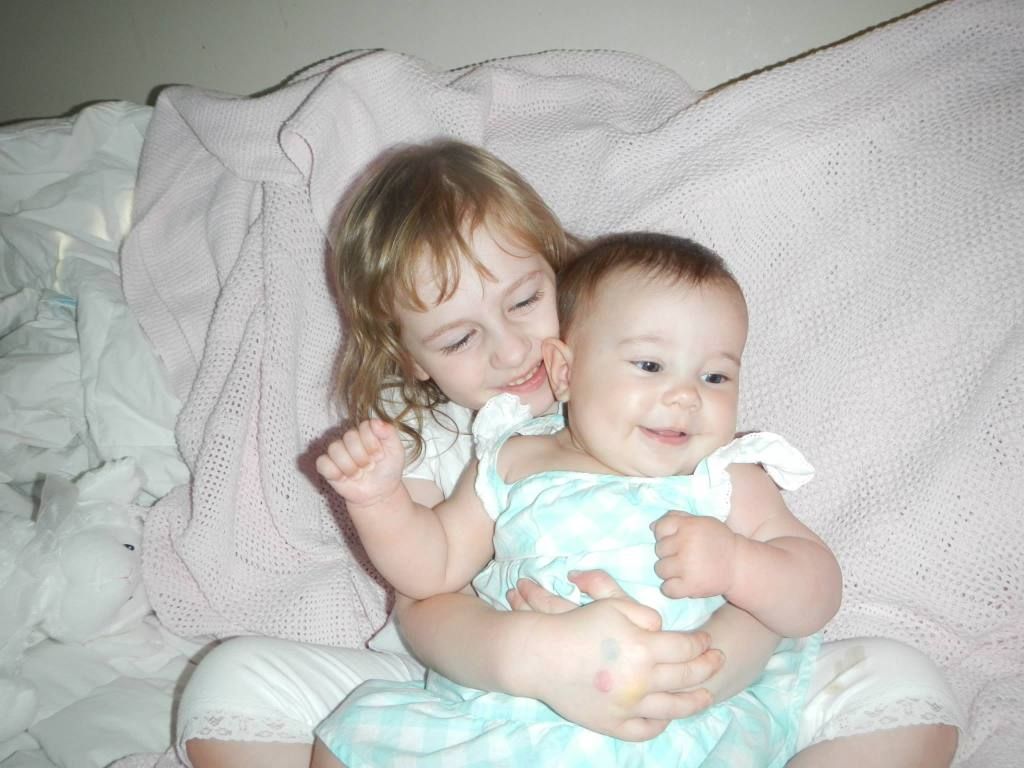 We're still on a good night time schedule of sleeping from 8pm to 8am, give or take an hour. She's been sleeping through the night since she was a couple weeks old, only waking to nurse a few times. But this month she's started sleeping right through without even needing me to pat her back or anything. When she does wake up, it's usually just once at 4. And on the nights Kaylee doesn't come into our bed, I get a full night's sleep, which is beyond glorious!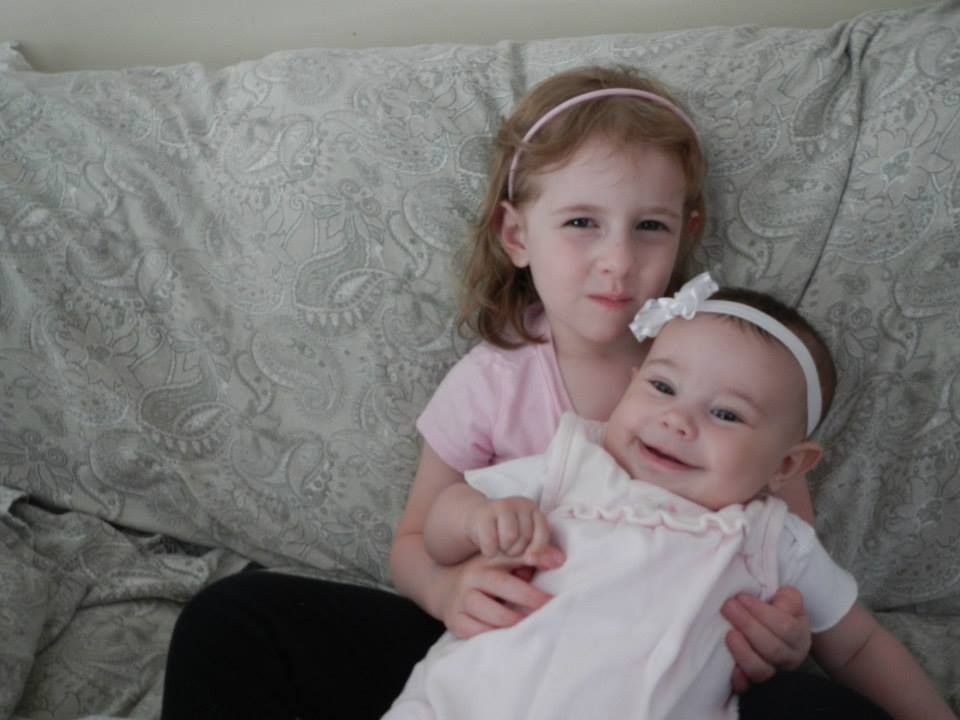 Although she's a great night sleeper, she's an awful day sleeper. She's sleeps haphazardly throughout the day and doesn't take a long nap unless I nurse her the whole time. I usually settle down to watch TV or take a nap myself every afternoon, so she doesn't get too miserable and cranky from not sleeping all day. Luckily, Kaylee usually enjoys playing in her room quietly during this time. My only problem is I finished watching all of SVU so I don't know what to watch now, lol.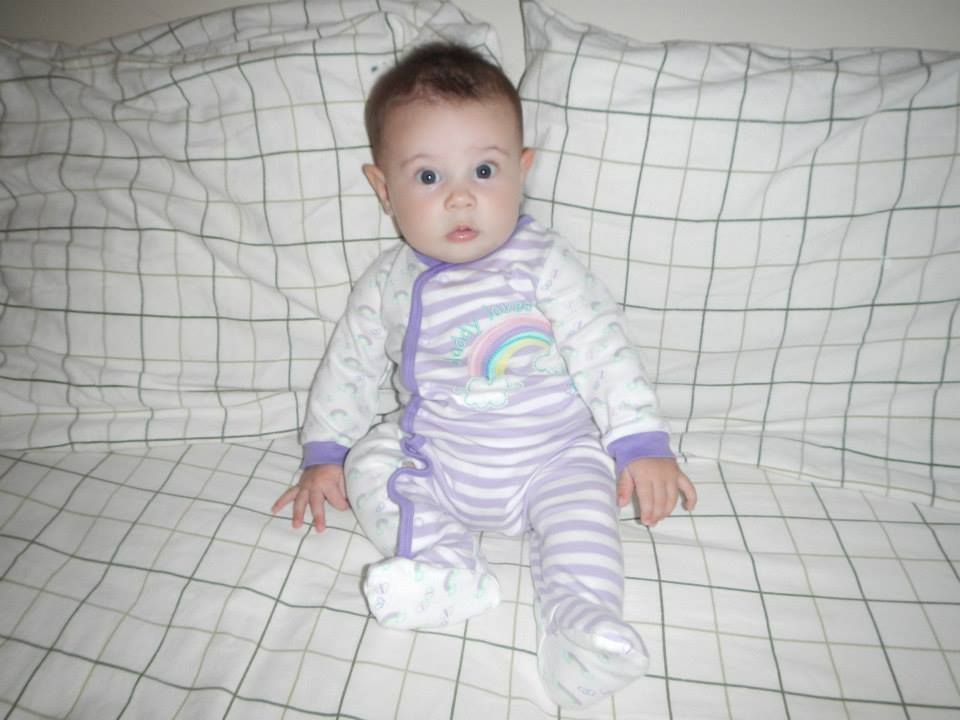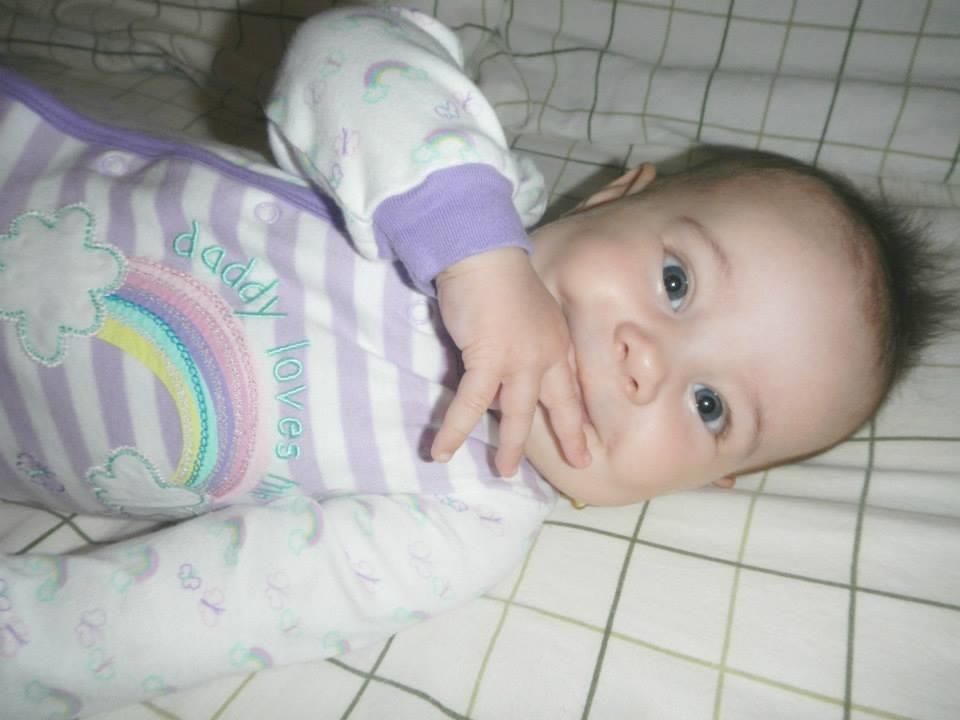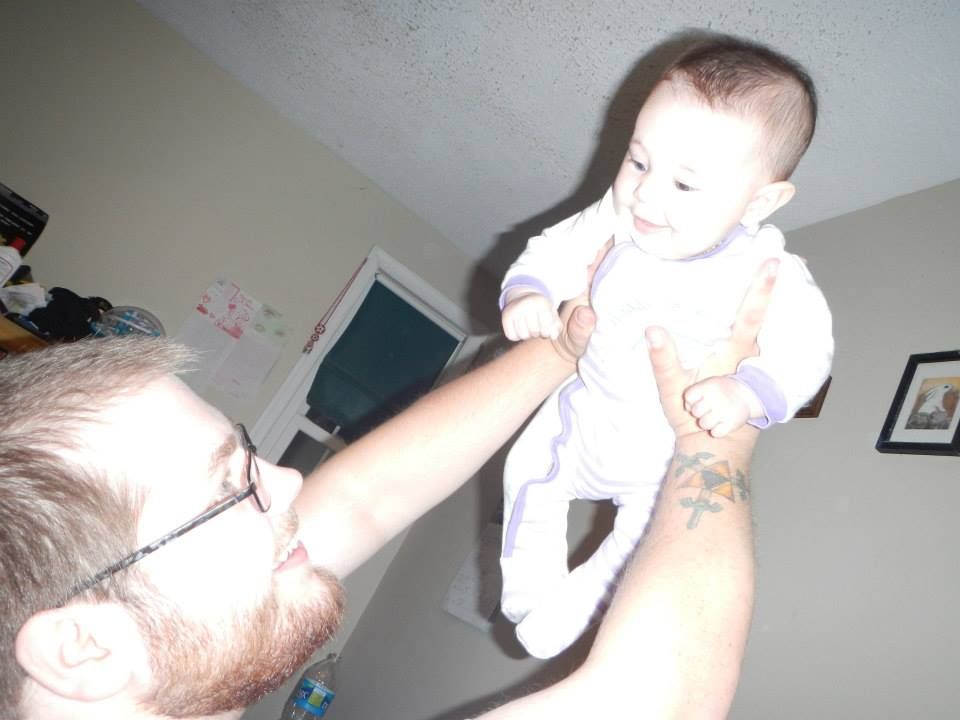 We've had to make quite a few changes this month because Brynna no longer likes chilling in a reclining position. She dislikes her bather, car seat, vibrating seat, and swing now. She likes sitting in her walker or just on the floor, with the Boppy for support because she's still not quite stable on her own. And at the grocery store, she sits in the front of the cart. She's so proud of herself too, she sits really upright and grins at everyone, it's adorable. :)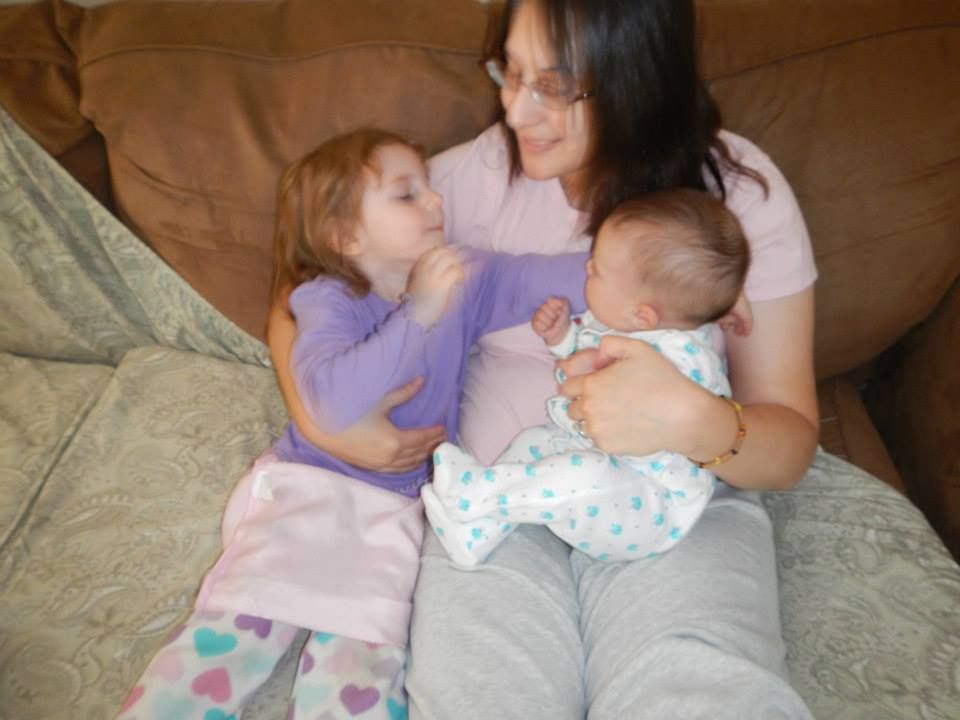 BrynnBrynn loves animals. She adores petting our doggies and she's learning to be more gentle. She always grins when she sees an animal and lunges toward it, including hamsters. The only thing that makes her happier is Kaylee, who she absolutely worships. They may have a 4 year age difference but they love playing together. It melts my heart watching them play. :) It may be hard having 2 kids and 4 pets but the way they all love each other makes it so worth it!
We've been trying to get Brynn interested in crawling, but still no luck. She can balance in the crawling position now but doesn't like it and just rolls onto her back. She is always wanting to stand up and her legs are very strong, so I wonder if she will just skip crawling and go straight to walking.
We started solids recently and she is eating like a champ. We're doing babyled weaning so I give her a half a banana, a frozen strawberry, a watermelon stick, a steamed carrot, a steamed green bean, or some other fruit or veggie that she can pick up and gnaw on. She usually demolishes it. It's pretty impressive how she manages to mash things up with her gums so well. Her first tooth did finally pop through today, and I can tell you from firsthand experience that it's very sharp!! She bit me while nursing, and I yelled so loud I don't think she'll do it again. I hope not, anyway!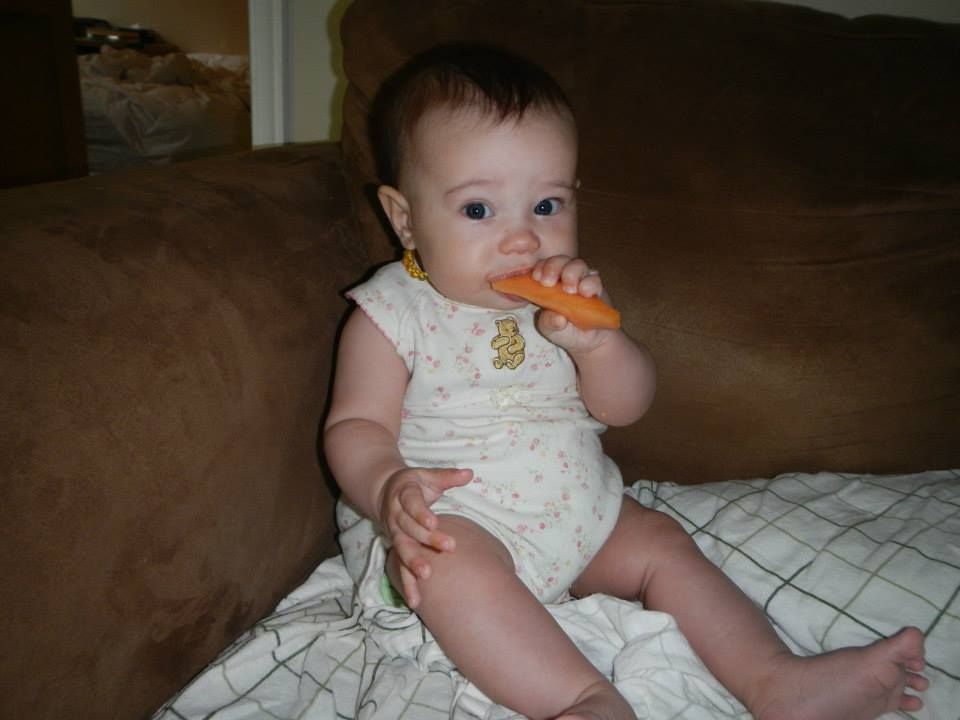 She also said her first word this month, and do you know what it was? Bob! LOL yes, my child's first word was Bob. It's hilarious. When I put her down on the couch and walk away, she calls for me by going, "Bob! Bob!" I think she is trying to say Mom but can't say her M's yet, hahah.
We are still doing cloth diapers and no issues there. Sometimes I go through all of my dozen medium diapers and have to use a large one but it's not the end of the world. She is on the medium setting on the covers now. After eating solids, she will have a more solid poop, and I just have to dump it in the toilet before putting the diaper into the dirty diaper bag. It's all much more simple than I thought it would be.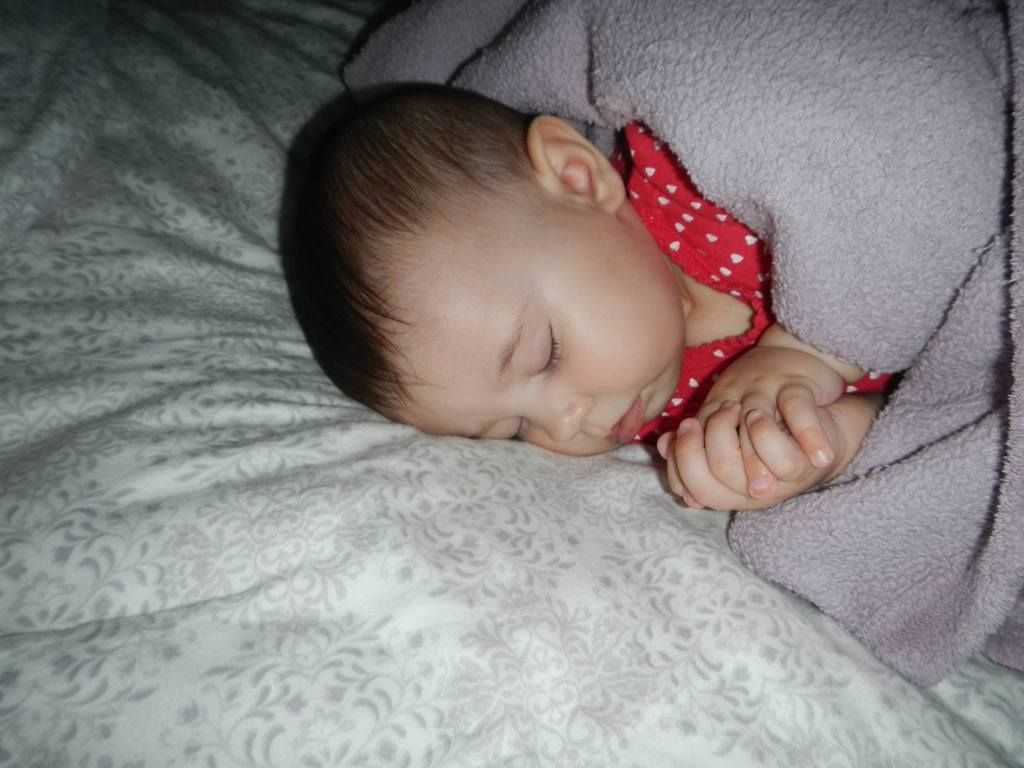 So yeah, this month has been so so fun. :) I love this little girl so much, I can't even begin to describe it. I'm smothering her in tons of kisses and snuggles while she's still little enough to let me, lol. She's growing up way too fast for comfort!
5 Month Update | 7 Month Update | Weekly/Monthly Pics