Saturday's Top 5 Laughs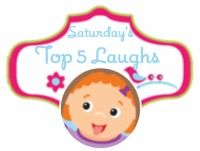 1. *As Steven is leaving for work* Kaylee: "Daddy, I love you so much! I love you because you always make me dinner and because you don't starve me."
2. Kaylee: *snuggling and kissing Brynna* "I want to go play in my room but I can't leave because Brynna is just too cute!"
3. Steven: "Kaylee, are you wearing perfume? You smell pretty."
Kaylee: "Daddy, I'm a girl so I always have to smell pretty!"
4. Kaylee: "I don't know I'm beautiful, but that's what makes me beautiful."
5.
We had this paused when Kaylee came in and she goes, "Why is that guy upset? Is it because his wife won't hug him? Or because he has no hair." Lmao!
For more of Kaylee's hilarity, click
here
. :)