7 Months!?!
I can't wrap my head around Brynna turning 7 months old. She's growing up way too fast!!! Where's the pause button? And the rewind button, for that matter!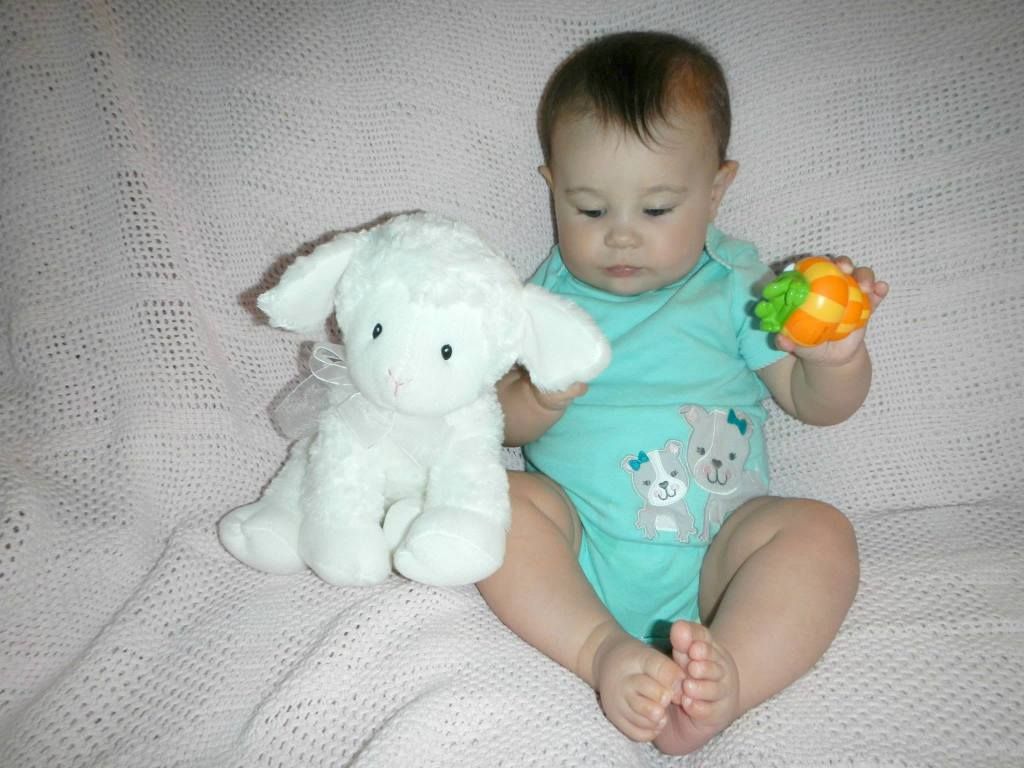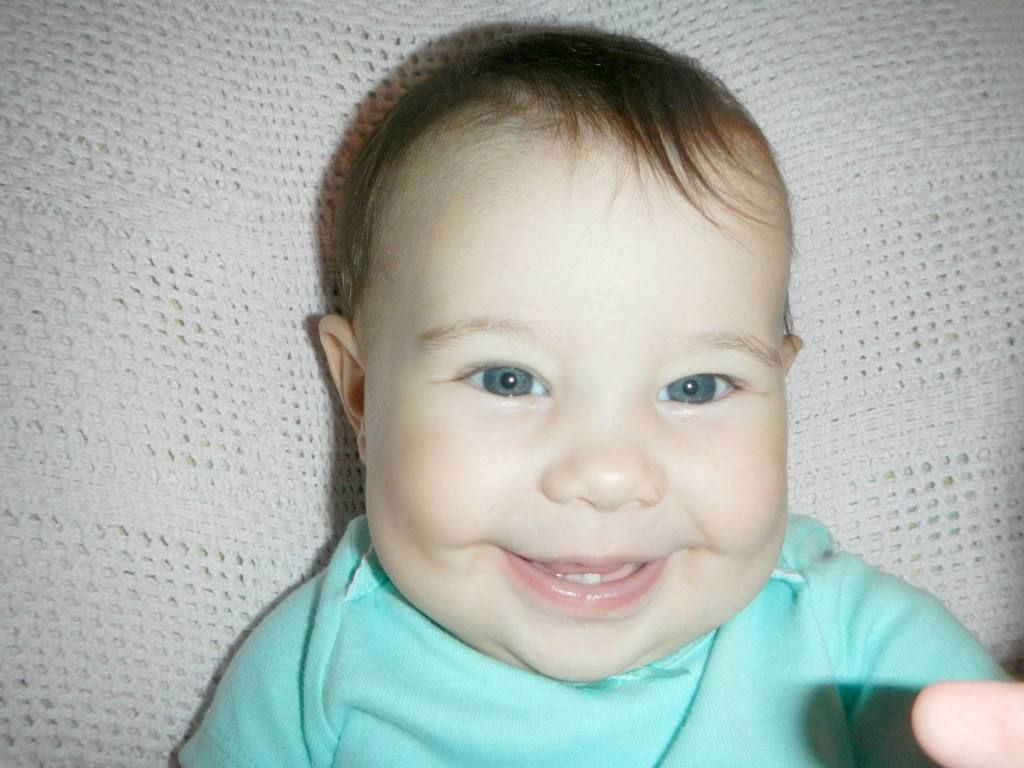 At her 7 month doctor visit, Brynn weighed 18 pounds 10 ounces and was 27 inches long. In the 75 percentile for both weight and height! She got 3 shots, only cried for a few seconds, and was fine. She's such a trooper!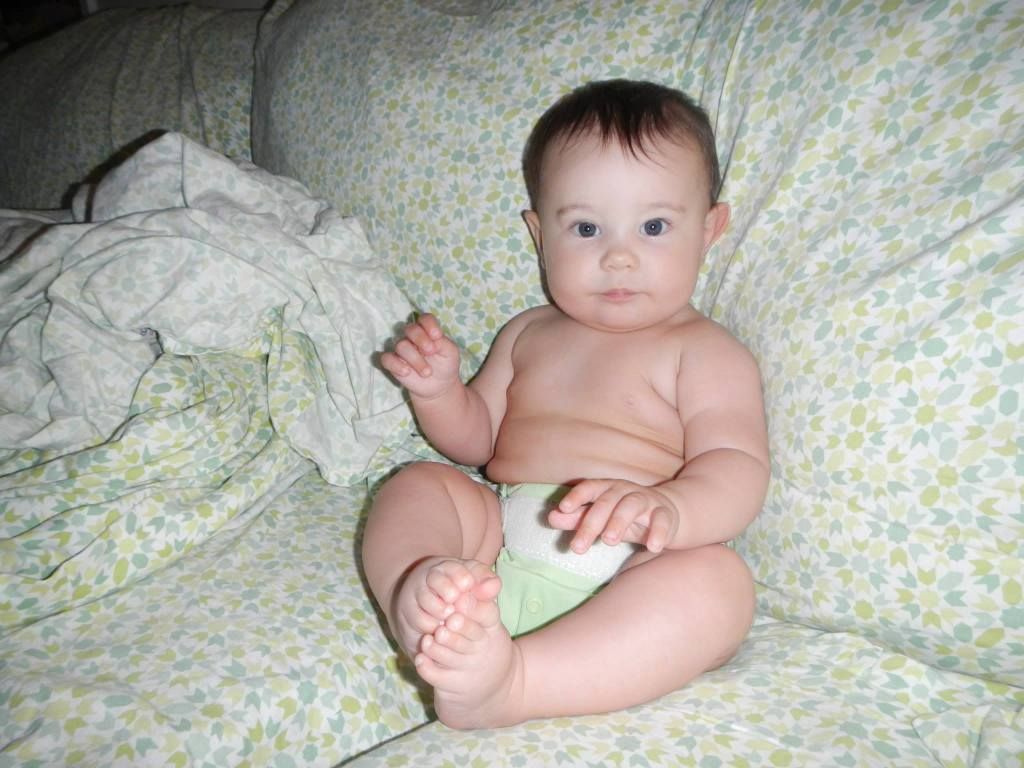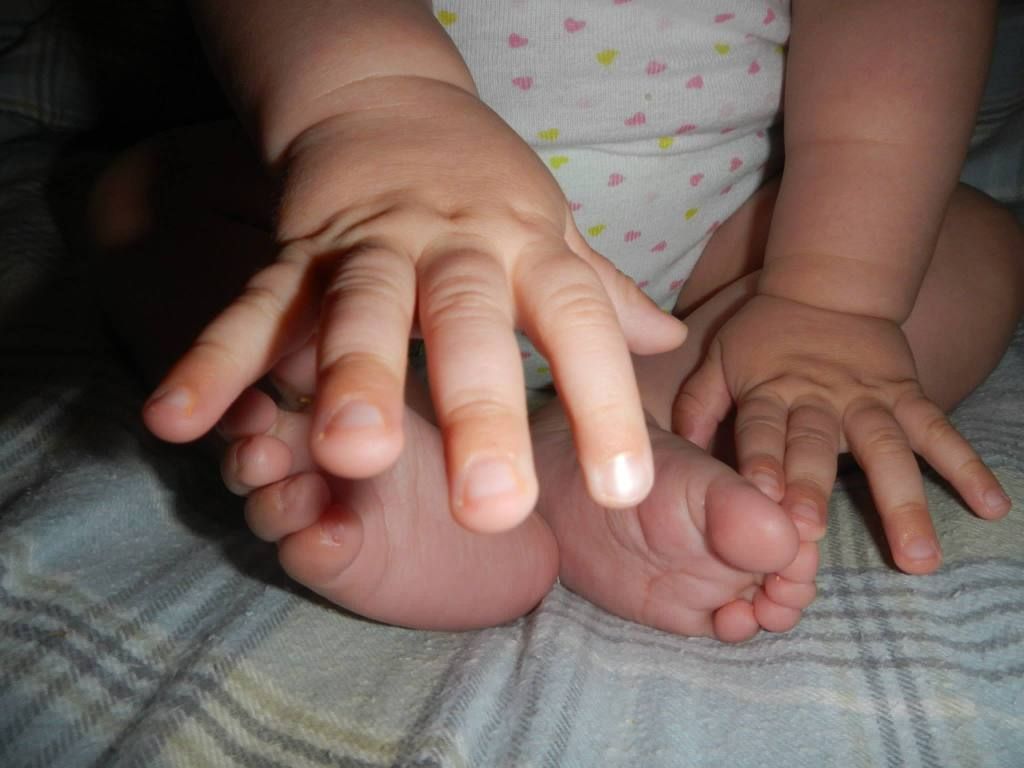 I remember
Kaylee being 7 months old
and I love see their similarities and differences. What I remember most about Kaylee is she was giggly, talkative, and extremely energetic. Brynna is basically the opposite; she is quiet, calm, and thoughtful. But they are both happy, clever, and of course super lovable. :)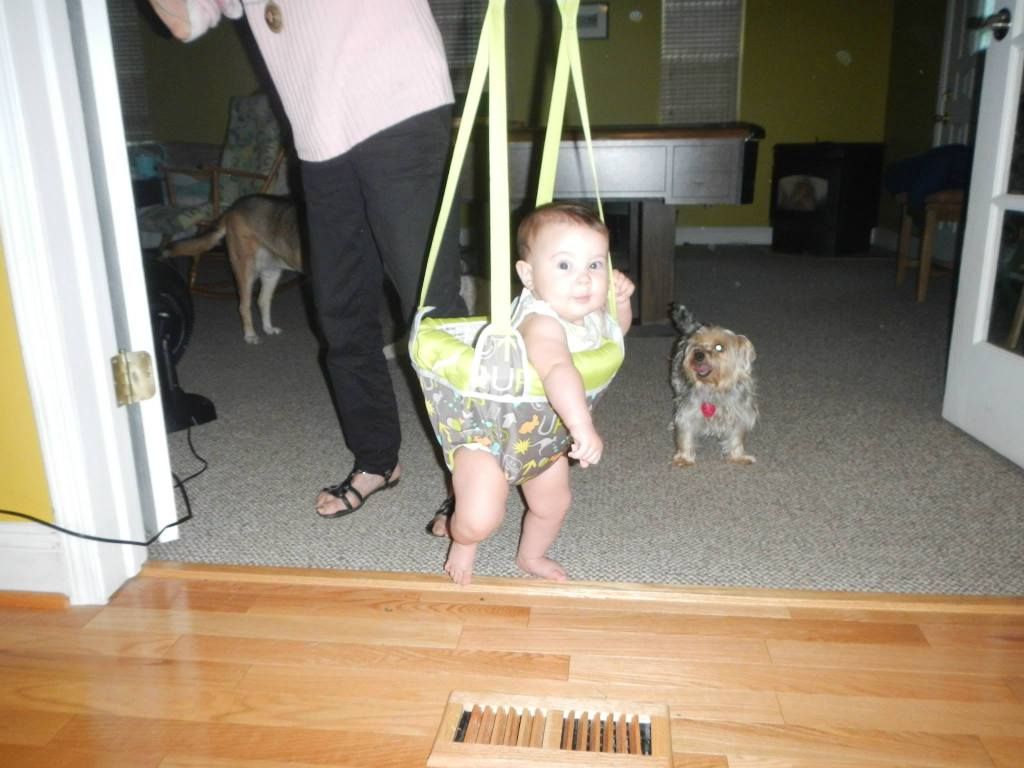 Brynna has remained her happy self this month, for the most part. We are loving how smart and playful she is at this stage. She dances, waves, blows raspberries, gives kisses and hugs, plays peekaboo, and imitates sounds (mostly dada and baba). She is just so fun. But since she is more mature, she is also more opinionated. She is picky about her routines and likes to do things a certain way or she gets fussy. She wants what she wants (basically anything that is not baby safe!) and whines loudly when she can't have it.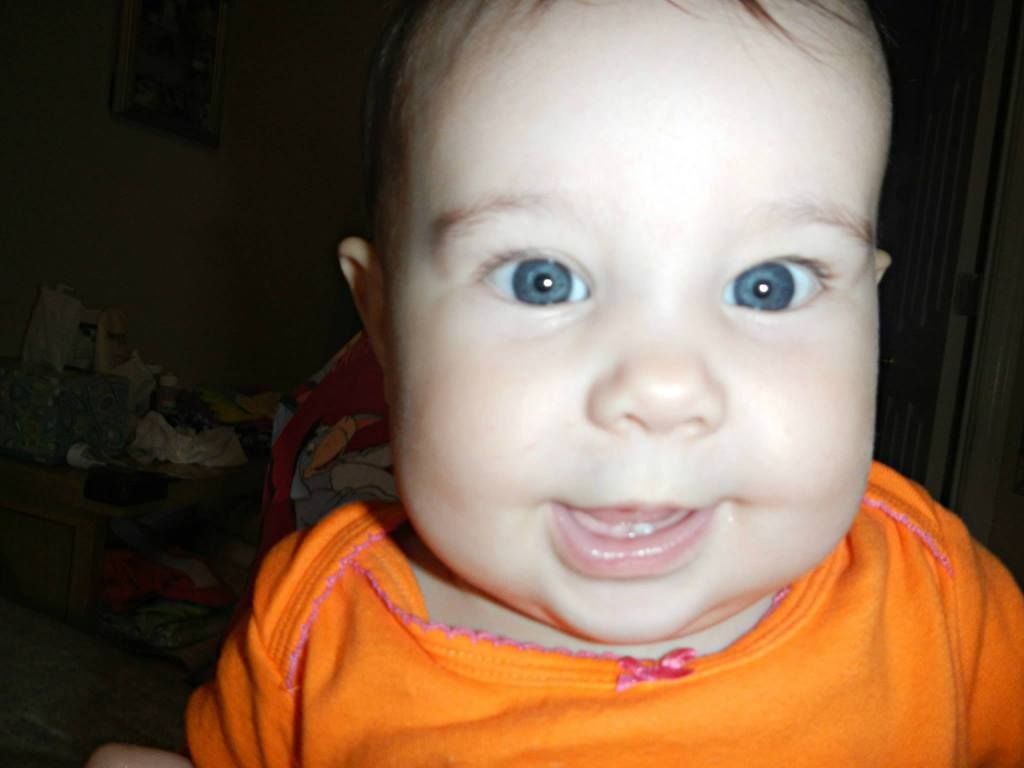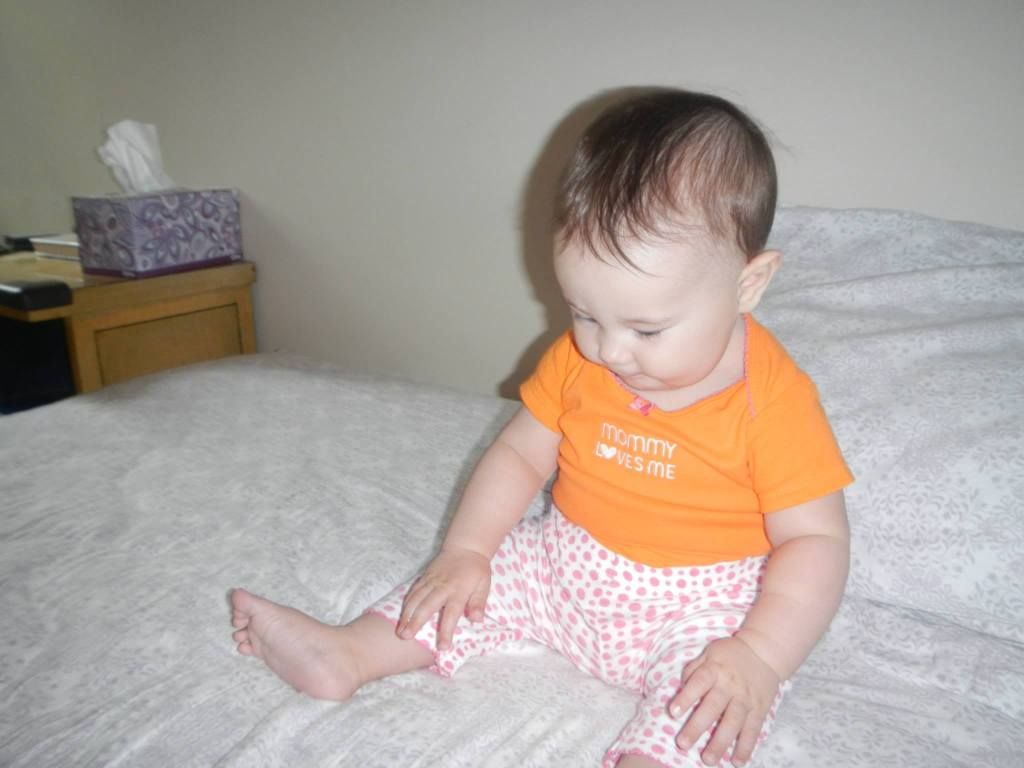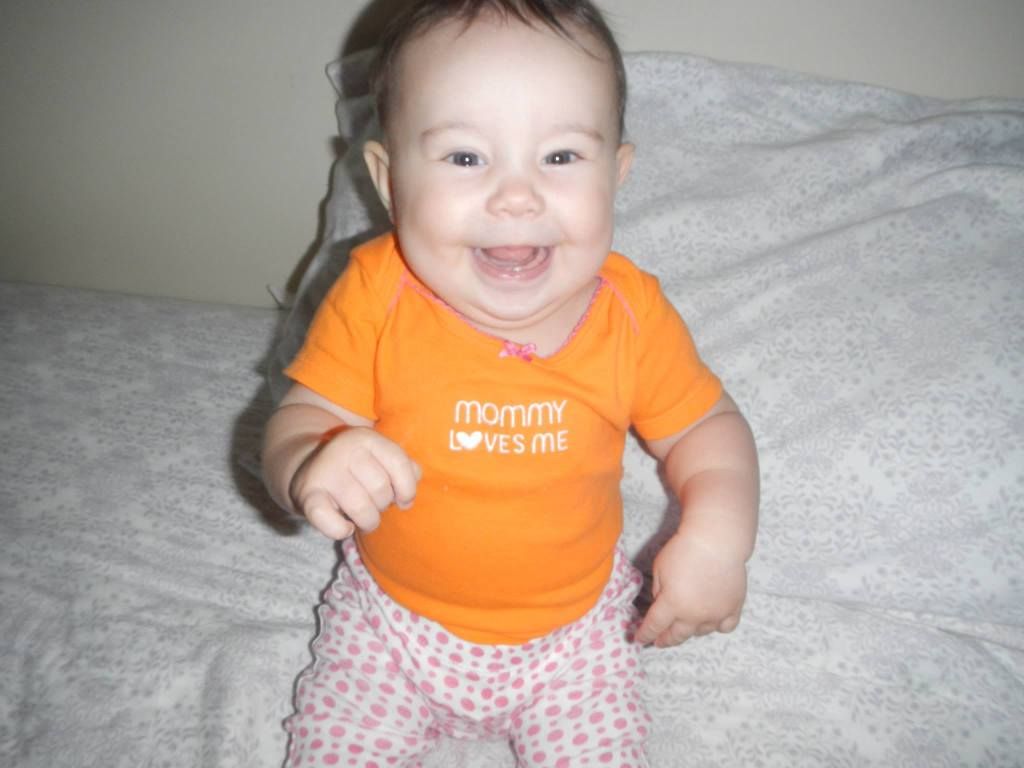 Brynna crawled for the first time this month! She doesn't seem too interested in trying to perfect this skill, but if you put something she really wants in front of her, she inchworms to it. She prefers pulling herself up and standing, so I wouldn't be surprised if she never really crawls and is an early walker. She's getting better at sitting and only really falls over anymore when she's getting tired. Also, she now has her 2 bottom front teeth! They're super cute, and super sharp!
I've FINALLY got her on a pretty reliable schedule. Although I'm in the process of trying to adjust her sleeping times, here's what it looks like right now.
7:30 - Wakes and nurses
10:00 - Nurses and naps
12:00 - Wakes and nurses
2:30 - Nurses and naps
3:30 - Wakes and nurses
4:00 - Solids
5:00 - Nurses
6:00 - Nurses and naps
7:00 - Wakes and nurses
9:30 - Bedtime (Wakes about twice a night to nurse, and needs a few minutes of holding/patting when a noise wakes her)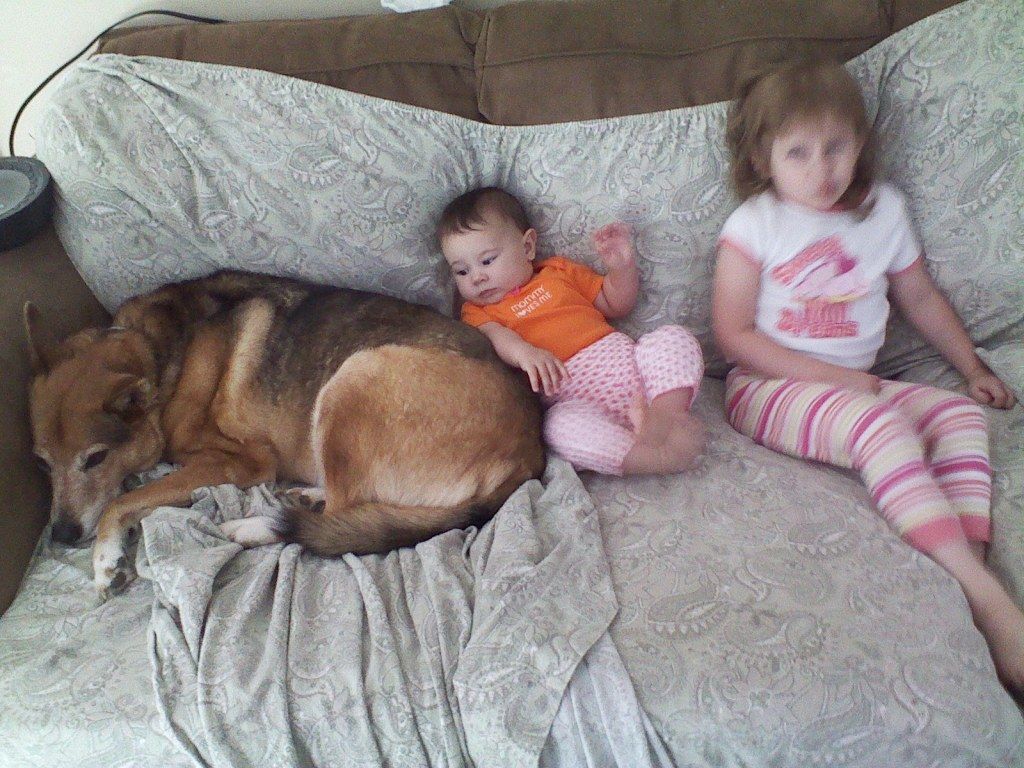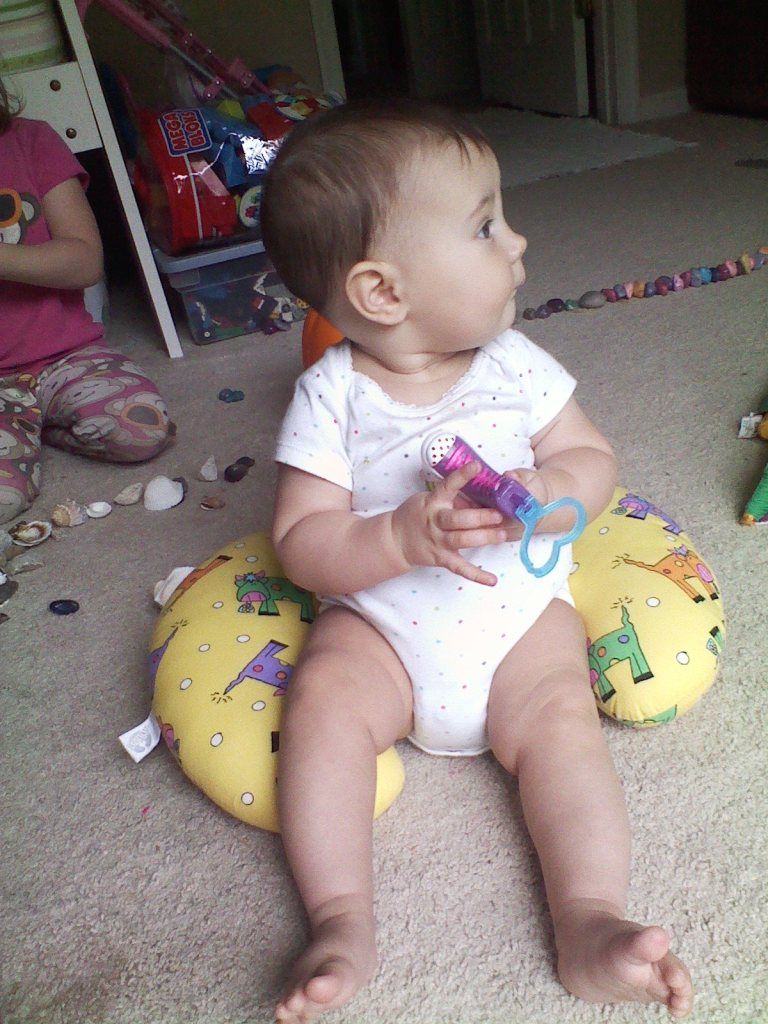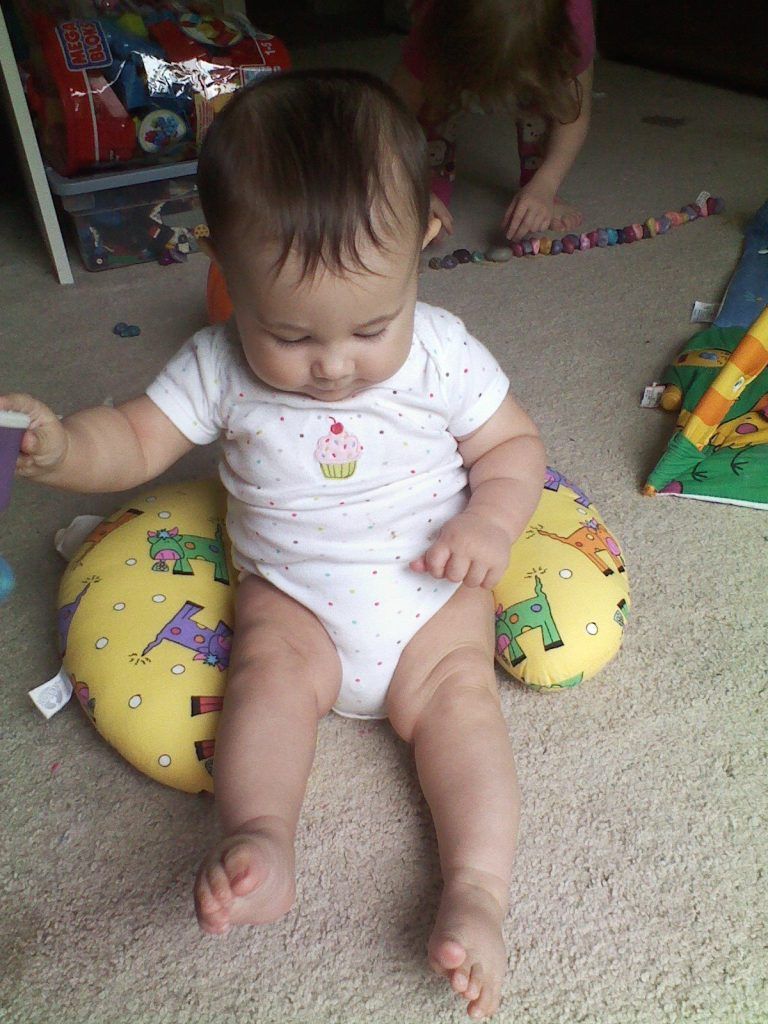 The thing Brynna loves best of all is to play with Kaylee in her room, which works out perfectly because that's Kaylee's favorite thing too! I absolutely love how much they adore eachother. I do have to keep an eye on them because Kaylee will do things like suck on her ear, try to teach her to do a somersault, give her a toy small enough to choke on, etc. Lol.
Up until now, breastfeeding has been a breeze, but we definitely had some rough patches this month. There were a few days when she kept biting me and wouldn't latch on. I thought she was weaning, and I was really sad. I realized how much work it was to fill enough bottles of breastmilk for her, while also trying to be a good mom to a 4 year old, so I was preparing myself to switch to formula. But I think we might pull through. I've been taking her into the bedroom and making it really dark and quiet, and she will finally nurse. She is still crying, biting, and arching her back a lot but she's been doing better. She is not a comfort nurser, she eats for like 10-20 minutes and she is done. And she doesn't really ask, I have to make sure to feed her regularly or she gets cranky. It's driving me crazy because I don't feel like she's eating enough so I'm checking wet diapers like I'm a first time mom to a newborn. Hopefully we can get through this and make it to a year, at least!!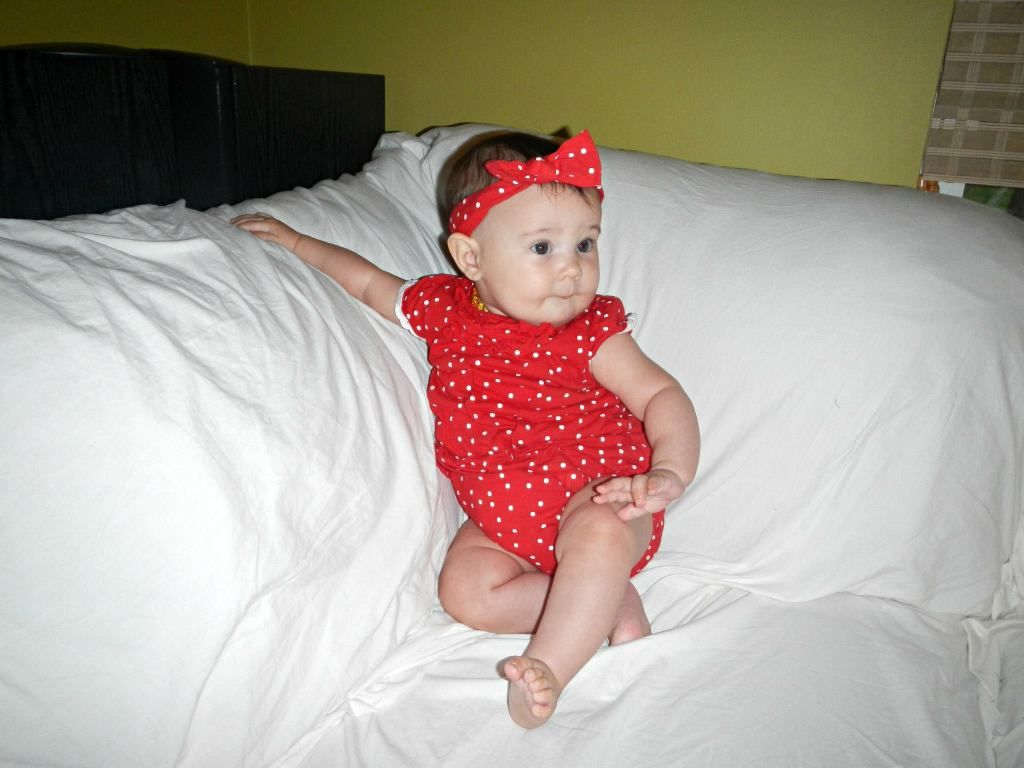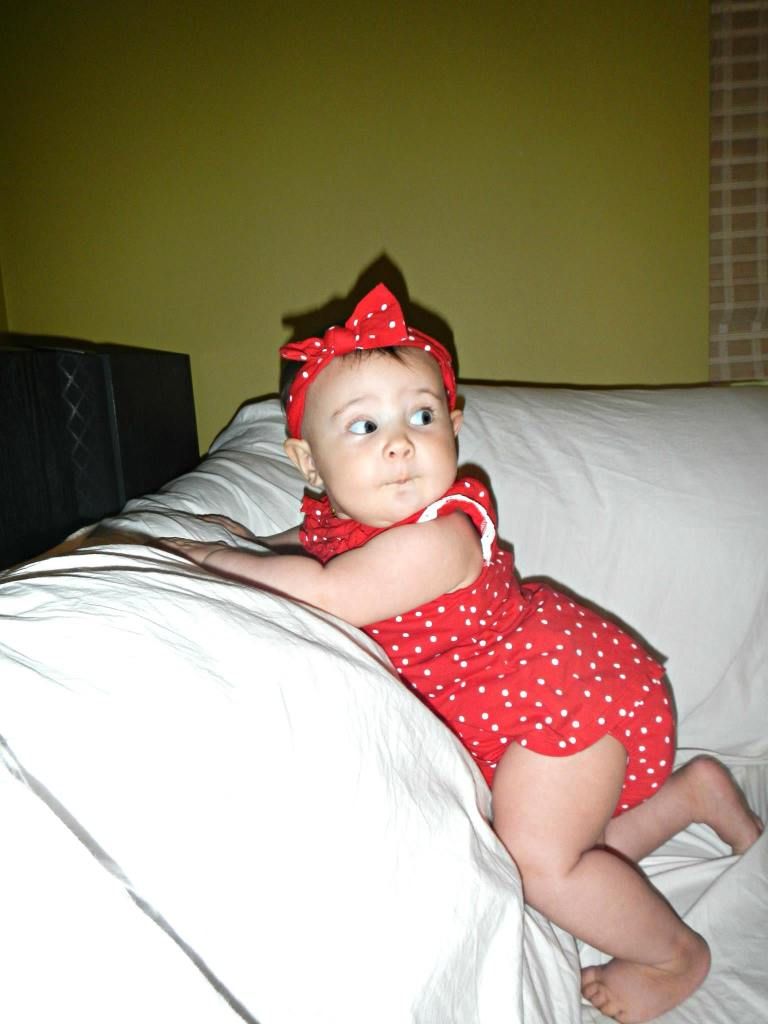 We're still doing BLW part time and she has tried a lot of new fruits and veggies. She seems to like whatever she tries and she is getting pretty efficient at feeding herself. She also has baby food sometimes if there's nothing around that's baby friendly to eat. I feed her solids once a day, but she gets tastes of things here and there. She also likes teething biscuits and bite-size baby crunchies. Even though she loves eating solids, I try to limit them and encourage breastfeeding as much as possible. I had the opposite problem with Kaylee, she wanted to nurse all the time and didn't eat much solids. When Kay was a baby, I could only get her to eat half a baby food container once a day, and I thought that was a lot. It seems like Brynna would love nothing more than to switch to a completely solid food diet.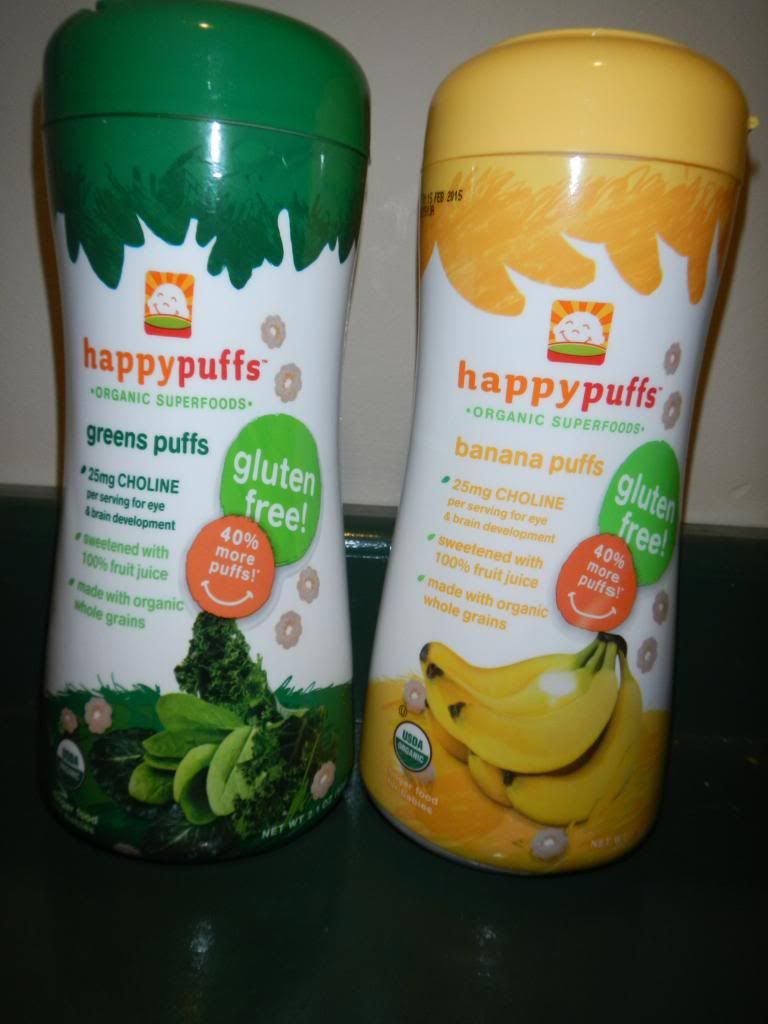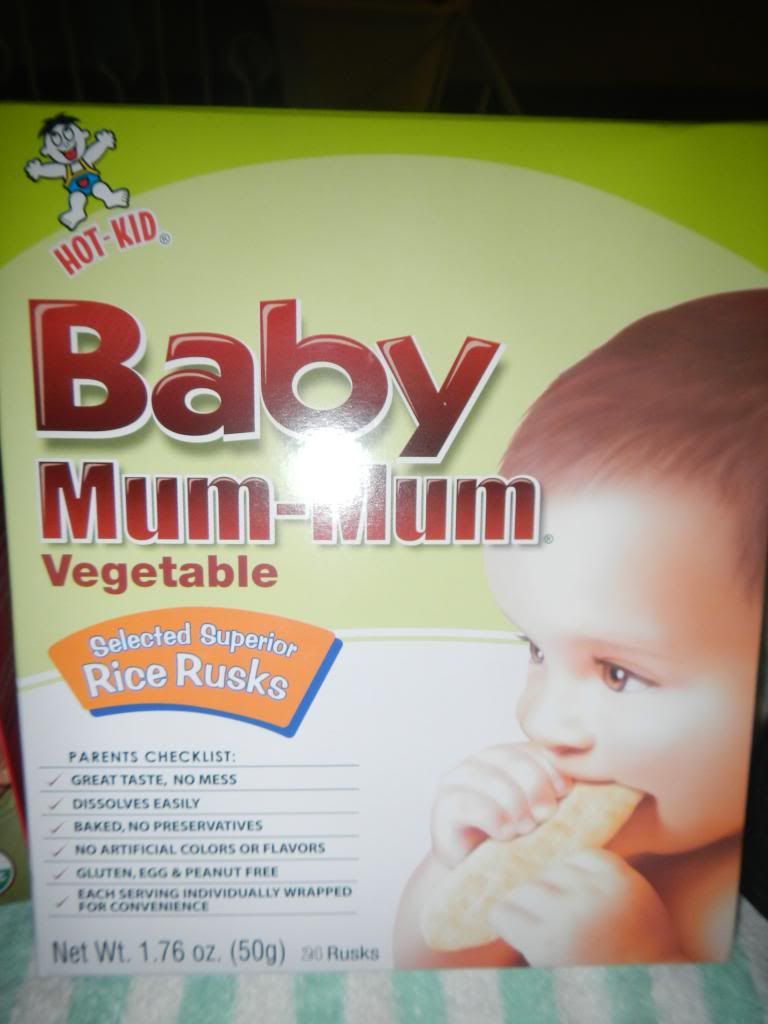 I can't wait for the next month of watching BrynnBrynn grow up! Each stage with each child is just so amazing. Yes, I am exhausted, and sometimes I just wanna rip my hair out! But at the end of the day, I always find myself marveling at just how lucky I am to be a mom. <3
6 Month Update | 8 Month Update | Weekly/Monthly Pics