Watch Baby#2 Grow
March 28 (about 5 weeks along) - I found out I was PREGNANT!
Yay!!!
A few days later, the morning sickness and exhaustion set it.
May 3 (about 10 weeks) pics:
Already popping out?!!
Big sister kisses. :)
May 17 (about 12 weeks) - We hear the heartbeat! ♥
May 20 (about 13 weeks) - I start feeling flutters at bedtime. :)
June 4 (about 15 weeks) - Into the second trimester, yay! But symptoms have not let up, boo. Feeling the baby move a little more now. Pic:
Baby is the size of an apple!
June 17 (about 17 weeks) - Nausea and tiredness is finally starting to let up. Still not feeling too good though. Baby is very active!! But still can't feel kicks from the outside yet.
June 29 (about 19 weeks) - Got an ultrasound and they changed our due date to November 22, a week earlier than we thought. Daddy feels baby move for the first time!
IT'S A GIRL!!!!!!!
July 14 (about 21 weeks) - Feeling a lot better than before, but still have heartburn, nausea, back pain, tiredness, cramps, and all that good stuff. Very happy to be past the halfway point! Pics:
:D
<3
July 17 (about 21 weeks) - Got another ultrasound and they changed my due date back to November, 28. Pics:
I got to see her wiggling, kicking, waving her arms around, and sucking her thumb. :)
3D pic!
July 31 (about 23 weeks) - We have decided on a name. Kaylee picked out the first name, Steven and I picked the middle. :)


Feeling a lot better, finally got some of my energy back! Going into manic nesting mode!!
September 22 (about 30 weeks) - Other than heartburn and back pain, doing pretty good. Happy to be in the
third trimester
. Nesting is in full force! Brynna is very strong and more active than ever. She is measuring 2 weeks ahead. We love it when she gets the hiccups. :)
September 25 (about 31 weeks) pics:
October 12 (about 33 weeks) - Still having back pain, heartburn, and swelling. Now also having a bit of arm pain/numbness, probably from pregnancy induced carpal tunnel. Feeling pretty good though, as long as I get plenty of sleep. Very excited, we're in the home stretch!! Pics:
Baby Brynna is big, strong, and ACTIVE in there!
Can't wait to be a family of 4!!
Love for bebe sister. :)
October 20 (about 34 weeks) pics:
I can't believe she'll be here in a month, give or take! This is really happening!!!!
My body's definitely starting to prep for labor. I've had many practice contractions in the past few days! They're annoying but at the same time exciting because I know that means she will be here soon. :D Just hopefully not before 37 weeks (full term) which is November 7.
November 6 (about 37 weeks) - Officially full term! Still having lots of Braxton-Hicks contractions and low pressure/cramps. We're very excited and impatient, can't wait for real labor to kick in! Pics:
YAY FULL TERM!
Any day now. :)
Baby wanted pie. <_<
November 20 (about 39 weeks) pics:
November 24 (about 39 weeks) - Come on out, baby! We can't wait to meet you. =) Pic:
November 27 (about 40 weeks) Pic:
December 4 (about 41 weeks) Pic: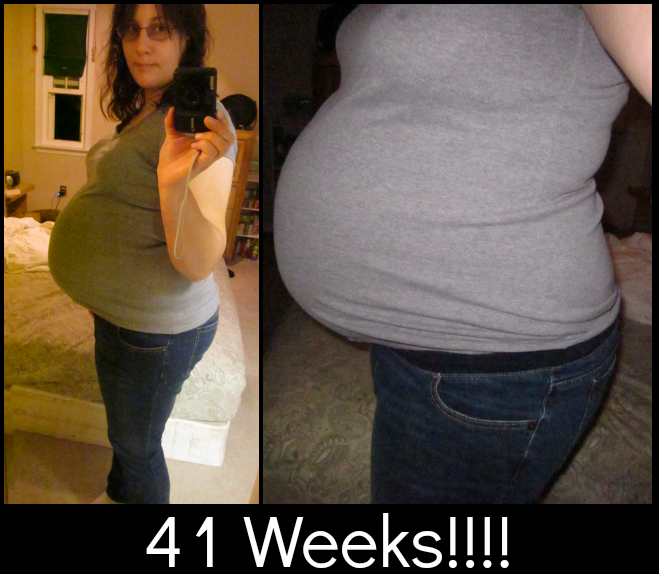 Click here for all pregnancy related posts!
Brynna Rose was born on December 6, 2012 at 3:10am. She was 7 pounds 13 ounces and 20 inches. :)
Birth Story